Being new to throwing knives, I wanted to start out with an economically priced versatile throwing knife.  I wanted the knife to not only to have throwing capabilities but also other practical uses such as self-defense or utility.  The Cold Steel True Flight Thrower turns out to be just the right knife for those requirements.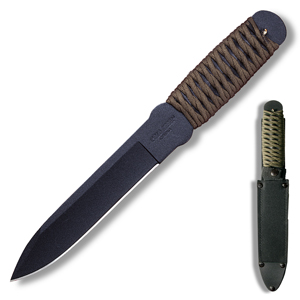 If you are looking for an affordable, yet high-quality throwing knife that offers true tactical value straight out of the box – whether handheld or thrown — the Cold Steel True Flight is the knife you are looking for.
The True Flight is comfortable and perfectly balanced when thrown either from the right or left hand.  It's a hugely popular throwing knife with more positive customer reviews than any other large throwing knife on Amazon!
No other throwing knife in this price range even comes close.
How functional is the Cold Steel True Flight Thrower?
While it is an excellent throwing knife, I have found that it also an effective tool in various other situations.  With the blade's length and a little sharpening, it turned out to be a good tool for chopping small pieces of wood and food prepping.  I'm assuming with how versatile this knife is that it can also be used as a tactical knife in combat.
Cold Steel True Flight Thrower
17 new from $32.87

as of December 4, 2023 11:04 pm
Features
1055 Carbon
Cor-Ex Sheath
Strong, reliable, accurate throwing knife made of 1055 carbon steel with baked-on black protective coating
Paracord handle wrap; durable Cor-Ex sheath included
12-inch overall length, 1055 carbon steel blade, five-millimeter blade thickness, and 9.7-ounce weight
These extra characteristics are great uses but getting back to its purpose, it is most adept at throwing due to its weight forward design.  It is the perfect option for beginners who would like to learn the basics of knife throwing.
Features & Stats
The 6 3/4″ blades are made of strong 1055 carbon steel and are 5mm thick. The 5 1/4″ paracords wrapped handle is easy to keep a firm grip on under all conditions, yet it doesn't interfere with your release when thrown.  As with all Cold Steel throwing knives, this one has that flat, blackened coating that helps to resist corrosion.
The knife weighs 9.7 ounces and fits comfortably in the durable Cor-Ex sheath it comes with.  I would prefer a more rugged, custom shaped EX-sheath, like the ones that come with the awesome tactical G.I. Tanto and the ninja kunai-styled Shanghai Shadow, but oh well.  At least it comes with a sheath, and at least it's not just a cheap nylon one.
Overall length is 12 inches.
Blade and Construction
This knife's blade is what crowns it as the ultimate throwing tool.  It is constructed with 1055 carbon steel making it flexible and very difficult to break even after taking a beating from abusive throwing.  As I noted earlier,  this blade is not razor sharp which isn't always necessary for throwing knives anyway.  You should be most concerned about the tip.  Luckily, Cold Steel forged the True Flight Thrower with a spear point tip making it reinforced and durable enough to withstand numerous throws.  The blade is 5mm thick and has an overall length of 7 inches which is long enough to actually be used in self-defense.  And like I said earlier, due to the choice of steel used in this knife it can easily be sharpened to be used as a utility knife in outdoors.  The only negative I see with this blade is that since it is black coated, the carbon steel doesn't haven't much resistance to chipping and you will start to notice the coat flaking off.  This will not affect the accuracy of the knife so there is no need to worry.
The Handle
The handle of the True Flight Thrower is where the only problem with this knife lies.  It has a paracord wrapped handle that will tend to unravel after many uses.  It isn't a huge deal since it can be re-wrapped.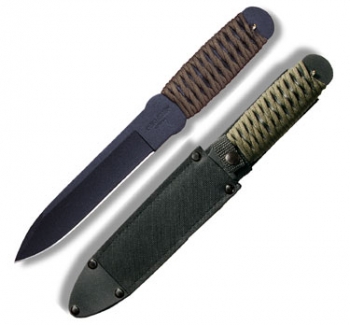 The handle itself without the paracord is actually quite comfortable to hold itself so you can always remove the paracord if is unraveling too much for your taste.  The butt of the handle is actually exposed steel which can be used as a form of self-defense as a bludgeon but is careful to not cut yourself since there doesn't appear to be any handguard.
Performance
Besides being a great thrower and tactical knife, the True Flight can double as a good all-around, general-purpose, or survival knife as well, due to its full tang, heavy-duty construction. It is equally useful out in nature; setting traps, cleaning game, or helping to set up camp for the night in your favorite wilderness retreat.
It was designed for heavy general use along with functioning as one of the most effective throwing knives. It also makes an ideal self-defense choice against any attacker or thief. The overall 12″ length will be very intimidating to any would-be assailant, and they'll certainly rethink what they were planning when confronted by their would-be victim wielding this blade.
Drawbacks?
paracord wrapped handles are prone to unravel
large size for EDC/concealed carry
Obviously, there's the paracord-wrapped handle grip.
If this was just a utility knife or handheld tactical knife, the cording would probably stay on just fine and not really be a problem.  But throwing knives with cord-wrapped handles are notorious for losing their cording.  This usually happens when practicing with multiple knives, as the cords get nicked when subsequent knives are thrown and bang into the knives that are already stuck in the target.
So obviously, when you are throwing multiple True Flight throwers, be sure to use multiple targets — one for each knife — that way your risk of slicing off the paracord is non-existent.  That's what most serious throwers are probably doing already, but if you're new to this, you might not have thought of the practical reasoning behind having multiple bullseyes on your target board.
Now, unlike the Gil Hibben Cord Grip Throwers (which I LOVE), this paracord is much thicker and more durable, so some users report theirs lasting a long time.  But that seems to be the exception rather than the rule.  As for my own True Flight?  I've had mine for close to two years now, and that paracord is still wrapped as tight as the day I bought it.  No complaints here.
Conclusion
In my opinion, Cold Steel always has acceptable sheaths included with their knives.  In this case, a Cordura sheath is included with the True Flight Thrower and contains a belt clip for easy carrying.  There is also a button snap to lock the knife into place when not engaged.
$32.87
$36.99
in stock
17 new from $32.87
as of December 4, 2023 11:04 pm
There will always be pros and cons with every knife, but I would venture to say that this knife is an excellent beginner or novice throwing knife for perfecting your skills.