Whether you are a skilled ninja with years of training and experience or someone who simply has the desire for learning how to throw a knife with speed and accuracy, the first thing you need to do is get yourself a throwing knife set. Or, possibly you are looking to buy a gift for someone who has an interest in knives and knife throwing. Whatever is the case, you have arrived at the right location.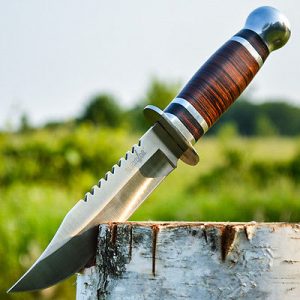 If you are tired of going through all of the e-commerce sites and want to find the best throwing knives then you've come to the right place.  Throwing knives is a fantastic recreation that the Throw Ninja Star family enjoys along with throwing stars.  Few things are as satisfying as sticking a perfectly thrown knife right in the bullseye. There are a staggering amount of options that we have narrowed down to four different options that we would classify as the best throwing knives for each of their intended uses.
The reviews of my top five throwing knives below and the interactive chart and analysis that follows will help you decide what the best throwing knives are for you.
My personal Review of the Top 5 Throwing Knives
To save my readers time I have used all my experience and personal research to compile a list of my top 5 throwing knives along with a detailed review of each one.
This list will save you hours of research time, and you can bet that only the best knives will make this top list.
One of the most strong, reliable, and accurate throwing knives on my list is the Cold Steel True Flight Thrower.  It is made of 1055 carbon steel with a baked-on black protective coating.  One of my favorite features of this blade is this paracord handle wrap.  It makes for a great grip and an attractive look.

This thrower comes with a Cor-Ex sheath for storing or carrying.  This knife is 12 inches in length, 9.7 ounces in weight, and has a blade thickness of 5 millimeters.  This knife's durability is unbelievable! It stands the test against the toughest tasks.  This thrower is priced at $20 but also includes a limited manufacturer's warranty. READ FULL REVIEW
Second on my top list is the United Cutlery GH2033 Gil Hibben Competition Knife.  It is a very attractive looking blade that has an ergonomically designed handle that will maximize the grip for throwing.  It will also help the hand naturally grip the knife for consistency maximum accuracy in throwing which is why it is deemed a competition throwing knife.

This three knife set comes in a single leather sheath making these a good choice for anyone wanting to practice competitive throwing.
Each blade is crafted from a single piece of 420 stainless steel and is a total of 12 and 1/8 inches in overall length.  These knives are well-balanced and a little heavier than most which is a huge plus.  This extra mass allows these knives to stick in the target with ease.  This is a great starter set for anyone coming in at a price of $39 for the set of three. READ FULL REVIEW
3. United Cutlery UC2772 Expendables Kunai Thrower
Another top knife on my list from United Cutlery is their UC2772 Expendables Kunai Thrower.  You may recognize this set of throwers since they were used by Lee Christmas in The Expendables movie.  These are balanced perfectly and super accurate.

Each knife is 12 inches in length and constructed from a single piece of Anodized AUS-6 stainless steel to give them lasting durability.  The blade is anodized double-edged and has a black cord-wrapped handle with a finger hole for handling.
This three knife set also comes with a nylon sheath that has a bot clip and leg strap to allow for several carrying options.  They come in at a very affordable $32.95.
4. Ridge Runner Ninja Throwing Knives
The Ridge Runner Ninja Throwers are the best throwing knives for anyone interested in starting out.  They are constructed from full-tang stainless steel and this set of TWELVE knives comes in a roll-up nylon sheath with a separate pocket for each thrower.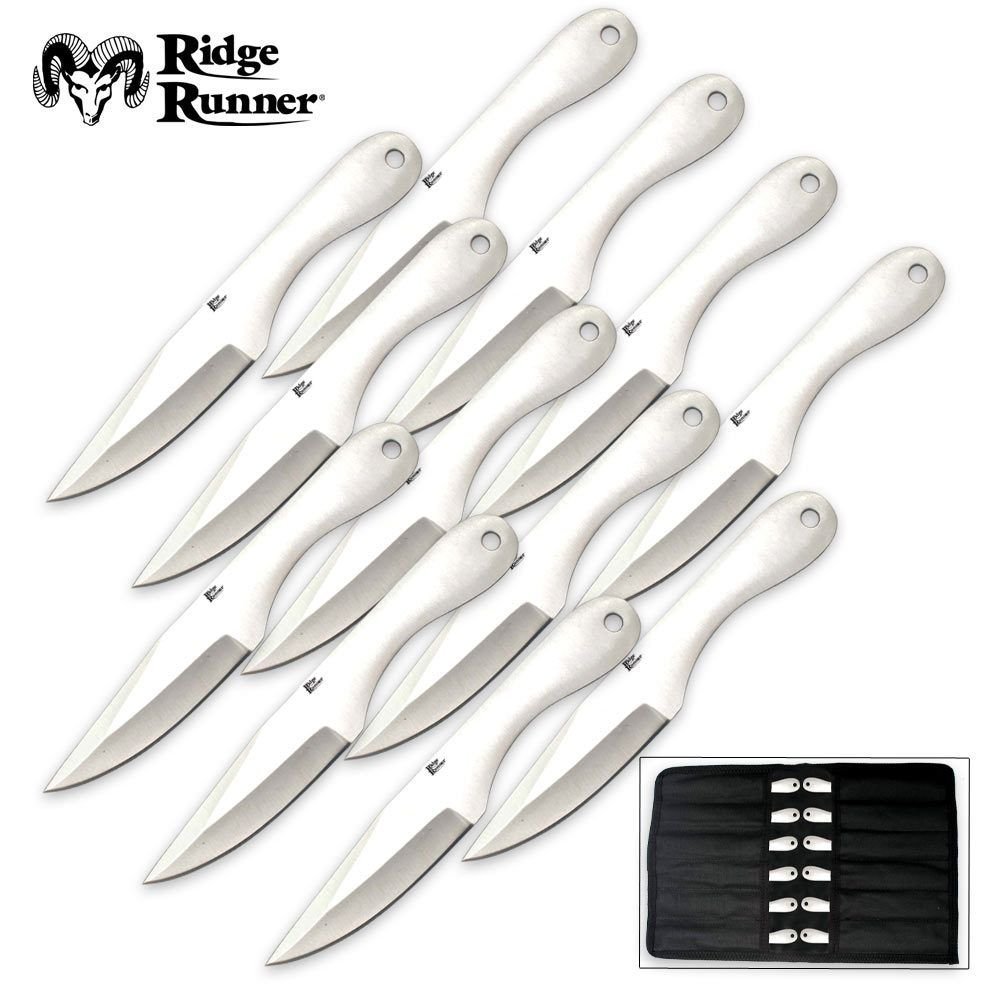 These knives may not be as durable as others on my list but that is what makes them a great beginner set.  As long as you are throwing at wooden targets or similar these will last as long as you need them to.  I would suggest practicing with just 6 of the knives at first until you get the hang of throwing.  If a knife is chipped, bent, or fulled it can be easily sharpened with a  wet stone.  After gaining some experience you can use the other 6 brand new knives for riskier targets.
They are 6 inches in length and weigh 49.4 grams each.  These are also super sharp and have a good balance.  One of the highlights of this set is that you get 12 knives for a low price of $21!
5. Tac Force TF-707 Series Assisted Opening Folding Knife
One of the most popular throwing blades out in the market today is the Tact Force TF-707 Series and its popularity can be proven by the fact that this knife has over 400 positive reviews on Amazon which means that not only I, but also other knife enthusiasts have experience with this throwing knife and found it to be amazing.

Your first look at this blade will have you sold on it!  The dragon design is something you don't see very often making this a very aesthetic knife and is also available in many different colors.  The handle is aluminum allowing it to be lightweight and balance out the knife.  The serrated blade is 3.5 inches long and made of lasting and durable stainless steel.  The total length when it is closed is 4.5 inches.
So not only is this knife durable and a looker, but it also has a couple of extra features that you don't see on other similar priced knives.  It has a pocket clip and a glass breaker on the end of the handle. These are all great qualities but what I like most about this knife is that it is economically priced.  Considering the quality, durability, and craftsmanship you would expect it to cost well out of your price range – you can pick it up for less than $10!
Best Professional Throwing Knives
This is a question often asked and it's not easy to answer what are the best professional throwing knives or tournament-grade throwing knives? A professional throwing knife is a subjective term, and you'll frequently find professionals using hand made blades as well as the whole gamut of off the shelf knives. For our tastes, you will do very well by this set of professional throwing knives by Böker called the Magnum Bailey Ziel 2 that come in a set of 3.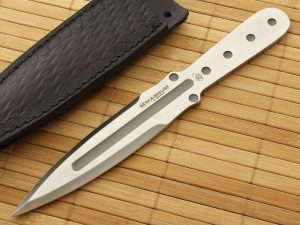 It is a well-balanced knife suitable for throwing either from the handle with a hammer grip or from the blade.  Each knife weighs in at 14 ounces with a length of 13 1/4.  They are made from 420J2 stainless steel and come with a genuine beautiful leather sheath.  These will meet most any knife-throwing tournament guidelines including the American Knife Throwers Alliance rules. These are fantastic knives that can last you a lifetime of throwing. If you are only going to buy one set, this would be our recommendation. At the time of this post, they sell for $68.50 available at Amazon.
Best Tactical Throwing Knives
If you are looking for dual purpose knives that can be thrown as well as used around camp or in the field then you might be in the market for tactical throwing knives. There are a few good options in this class but our favorite is made by Cold Steel, it's the G.I. Tanto.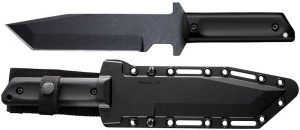 This is an incredible beast of a knife that makes a decent thrower and a great general duty knife. It comes with a Secure-Ex sheath that you can wear a variety of ways. On top of that, you easily adapt this knife as a spear point if you and Wilson are stuck on a desert island. It's 12 in length and comes in at 10.6 ounces. The blade is made from 1055 carbon and holds an edge and sharpens extremely well. This is a great knife as are most Cold Steel products, we found this one for $20.74 at Amazon. Note: comes as a single knife not a set of 3.
Best Inexpensive Throwing Knives
You don't have to go broke to find some decent cheap throwing knives.  What you'll have to sacrifice is the quality of steel and the long-term durability of the knives.  You have quite a few options under $20 for a set of 3 which is what we set our benchmark at but we think you'll agree that the Gil Hibben Cord Grip Triple Throwers are an excellent option. They are approximately 8 and 5/8 long about 3/16 thick and weigh roughly 5.5 ounces.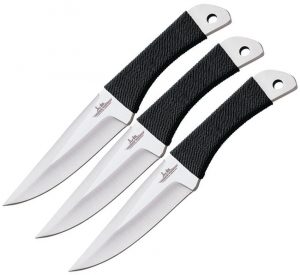 At the time of this original post, they are going for $18.85 which we think is a screaming deal for a set of three and genuinely make a great set of throwers.  This is an excellent starter set, our only complaint is that the cord wrap can easily be frayed or cut by several blades coming into close proximity with each other.  Other than that these are nice big hefty throwing knives perfect for starting your knife throwing career. Buy yours at Amazon among other knife retailers.
Best Throwing Knife to Survive the Hunger Games
It's a story as old as time, you find yourself fighting for your life in a post-apocalyptic teenage romance drama and you think to yourself if I only had one throwing knife what would I choose? The answer to that is surprisingly easy, you go with the Boker Magnum Bailey Throwing Knife Set. If you watch closely (and believe us we have!) for the knife scenes in the Hunger Games you'll note that this is indeed the very knife that Clove holds to Katniss neck. Why didn't she just end it there you ask? Because she wanted to throw it of course! Although with these they hold a nice edge as well so if you are forced to go to a knife duel you'll be fine.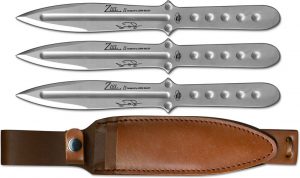 On top of that, they are just plain wicked looking. The design is very striking but they throw remarkably well. If you look closely at the blade they are labeled as the mini bo-kri designed by John Bailey. John Bailey is an amazing knife thrower and for many years has been Bokers chief knife designer. He also designed the Ziel 2 which we recommend as the best professional throwing knife.
These knives are made out of 420J2 stainless steel and are 10 7/8 long. They weigh 11 and a half ounces each and come in a set of 3 with a nice leather sheath. These are indeed serious knives.
The Secret to Buying the Best Throwing Knives
As holds true in most things buy the most knife you can afford. This isn't a gimmick to get you to spend more money, you'll be rewarded with knives that throw well, are balanced correctly, and will give you much better success than cheaper dime a dozen knives.  Any of our four knives above will make excellent choices for beginner knife throwers as well as seasoned professionals.  A well-balanced knife with a good length will let you throw via the blade or the handle and a general rule of thumb is approximately 1 ounce of weight for every inch of length.  A common mistake is buying a knife that is too light or too short.  And if you've made it this far and are saying I still don't know which ones to purchase!  Just go with the Magnum Bailey Ziel 2 you won't be sorry.
If you're still exploring throwing options there's always throwing stars. Head on over to our guide which goes into great detail on a variety of throwing star options.
What exactly is a Throwing Knife?
Are you wondering what a throwing knife, or thrower, is and what makes it different from other knives?  Well, a thrower is a knife that is crafted and weighted so that it can be thrown at targets effectively and accurately.
They can be used for many different occasions whether it be throwing competitions, just for fun, or on the rare occasion that you are in a survival situation and need them for protection.
Knife throwing is considered to be an art form, sport, combat skill, and also a form of entertainment for an audience.
My Detailed Throwing Knife Table:
You have read the reviews of my personal top 5 throwing knives, but I have also compiled a tabular guide to compare all the top blades currently on the market.  This guide will aid in helping you to make an informed choice of the best throwing knives to choose based on your needs.
Included in the matrix are 7 columns:
Knife brand and name/model – (click to view more details or to purchase)
Overall Length – Combined blade and handle length in inches.
Weight – knife weight in ounces
Blade Material – the metal used in the blade
Price – These are approximate prices on Amazon.com.  These change frequently based on availability, special promotions, and more.  But generally speaking: $ = under $20, $$ = $20 to $39, $$$ = $40 to $100, $$$$ = $100+
Rating – The average user rating on Amazon.com.  This can be very helpful in deciding if people are satisfied with their purchase.
I hope you have been able to make a decision as to which throwing knives are best for you after going through my top 5 picks and comparison guide.
If I have missed any great throwing knives, or you have any suggestions to add to the comparison guide or a particular knife you would like to see reviewed, please leave a comment below.  Thanks!