Return of the Ninja!
During the 1980s ninja craze, no one was more synonymous with Japan's mysterious shadow warriors than Sho Kosugi, the man who introduced the world to black masks, throwing stars and square-handled swords. Kicking off the decade with a bang, Kosugi's portrayal of the Black Ninja in Enter the Ninja sent shockwaves through the martial arts world and the entertainment industry as it launched what's now known as "ninja mania."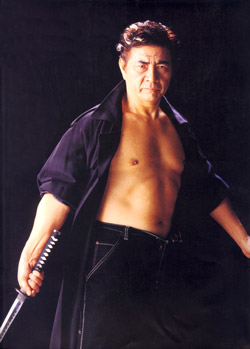 Riding the wave of popularity like a tabi-shoed surfer, Kosugi had his hand in every aspect of pop-culture ninjutsu. His supporting role in Enter the Ninja spawned Revenge of the Ninja and Ninja 3: The Domination, as well as 10 more movies, with Kosugi playing opposite Hollywood heavyweights like Rutger Hauer (Blind Fury) and Jean-Claude Van Damme (Black Eagle).
Arguably, the zenith of ninja mania was reached in 1984 with the debut of a Friday-night prime-time series titled The Master, starring Lee Van Cleef and Kosugi, who did triple duty as co-star, martial arts choreographer and stunt double for Van Cleef. While episodes varied in quality, it can't be denied that the ninja and Kosugi had arrived. When the fad fizzled in the early '90s, Kosugi stepped back into the shadows, waiting to strike again.
Fortunately for fans, Hollywood's top celluloid assassin hasn't gone away. In fact, Kosugi's life is the busiest it's been, with projects ranging from Hollywood blockbusters to Japanese television to his pride and joy: the Sho Kosugi Institute in Studio City, California.
"We teach acting, dancing, singing, of course English, and martial arts—including taekwondo, kung fu and, from time to time, if I'm available, Japanese martial arts," Kosugi says.
Smiling, he adds, "Our school just got accreditation from the state of California as a secondary school."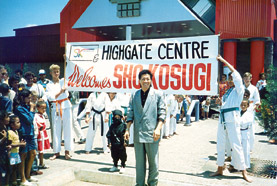 Never content to limit his dreams to Hollywood, Kosugi has opened branches in Tokyo, Osaka, Fukuoka and Nagoya, Japan, and he plans to expand to Taiwan, Korea, China and Europe.
"For the past five or six years, I'm not making any movies, but I'm appearing on a lot of TV shows in Japan," he says. "However, I do have one project: We're going to try to make a ninja movie. It's not like when it used to be small-budget ninja movies. We're talking about a $50 million to $60 million ninja movie!"
Kosugi says he's tapped Steven de Souza, writer of Beverly Hills Cop and Die Hard fame, to pen his dream ninja film, and he's met with a hot young executive producer. With the recent resurgence of Hollywood fight flicks, Kosugi believes the time is right for the return of the ninja to the silver screen.
At age 58, Sho Kosugi has been slicing, dicing, kicking and creeping his way through the celluloid shadows for three decades. He's served as a role model for generations of martial arts devotees, and he continues to inspire young performers with stars in their eyes and a spring-loaded shuriken on their belt buckle.

For information about the Sho Kosugi Institute, visit http://www.blackbeltmag.com and click on Community, then Black Belt Authors.
Return of the Ninja! by Jason William McNeil
Originally posted at: http://www.blackbeltmag.com/archives/487