Hang Your Coat on a Throwing Star, Ninja Star Coat Hooks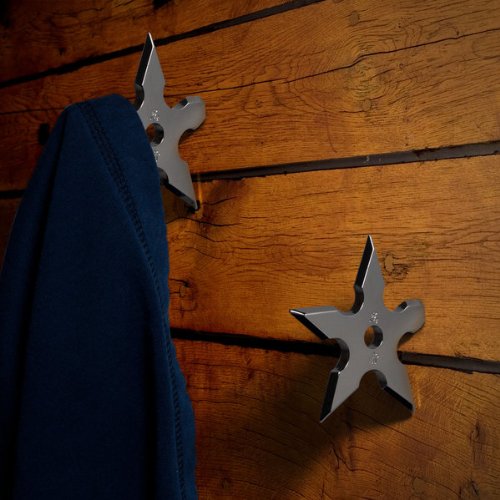 Okay, if you are like us, and obsessed with all things ninja star then this is a must have for your home, office, man cave or underwater lair.  They are so unique in every way that its just hard to describe.  They come in a set of 2, are incredibly well made and will serve you well for years.  The only challenge I see is that they may not be able to hold up your heavy Carhartt jacket, but your lightweight Ninja Robe?  No problem.
They are made out of a zinc alloy with a nice chrome finish.  Yes indeed they are 5 points with one of those points engineered into a screw.  The points of the star are not sharp so you're not going to slice through your FILA warm up jacket.  They are approximately 4 in diameter.  You can buy them at Amazon, and yes they are prime eligible so you can have them tomorrow!