FOR THE MORE ADVANCED THROWER
SOG FX41N-CP Fling Throwing Knives, 3-Pack
The SOG Specialty Knives & Tools FX41N-CP Fling is designed with full tang construction, styled after traditional throwing knives and perfect for backyard competitions. Made of 9Cr18MoV steel with an attractive satin finish, these knives have a 2.8-inch straight edged fixed blade with a spear point shape that has a symmetrical grind with the tip located at the blade's center. The handle is made of steel and wrapped in 7-feet of green and tan paracord to provide a well-balanced and comfortable fit in your hand. Each knife of this 3-pack has a 9.5-inch overall length, 0.14-inch blade thickness, 5.40-ounce weight and includes a black ballistic nylon sheath with Velcro closure and belt loop attachment to keep these Fling knives secure and close at all times.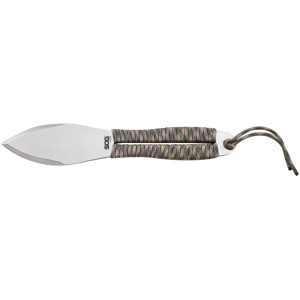 The SOG Specialty Knives & Tools FX41N-CP Fling Throwing Knife 3-Pack with Straight Edge 2.8-Inch Steel Blades come with a limited lifetime warranty that protects against defects in manufacturing and materials. Each SOG product is created with the help of the company founder and chief engineer, Spencer Frazer. Known for their uncompromising style and performance, these knives and tools showcase innovation, dependability, and a unique, futuristic style that has garnered awards and recognition worldwide. SOG products have also won favor among law enforcement, military, and industrial customers that rely on their tools to perform flawlessly in the toughest, most adverse conditions. Check It Out →
Cold Steel True Flight Thrower Paracord Wrapped Handle
The Cold Steel True Flight Thrower knives beat the competition by a huge margin. Strong; we use 1055 carbon steel and finish it with a beautiful black, protective coat. Full Review Here.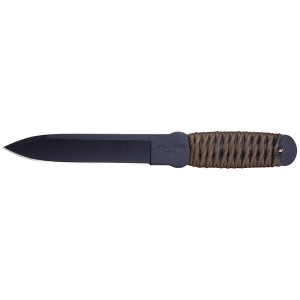 This makes these knives hard, yet resilient. with a blade that will "bounce-back" from any throw. And for versatility, the True Flight Thrower has an edge that will stand-up to your toughest target. Check It Out →
United Cutlery UC2772 Expendables Kunai Thrower Set
Just like the knife throwers that Lee Christmas used in The Expendables movie, these three knives are perfectly balanced and amazingly accurate. This set features 3 amazingly balanced throwing knives constructed of single pieces of stainless steel.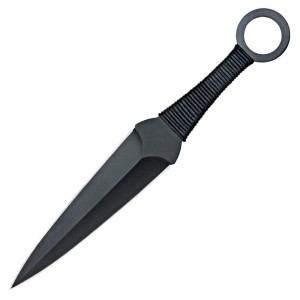 Each knife measures 12-Inch long and have an anodized double-edged blade with a black handle with a finger hole. Included is a nylon sheath with boot clip and holster for multiple carrying options. For more than 20 years United has been the industry leader in producing top-quality collectibles. Check It Out →
Cold Steel 80Stk14 Pro Flight Sport Throwing Knife
This is the ultimate knife and our favorite by far. They come separately so we recommend buying a set of 6 so you don't have to walk back to the board every time you throw one. Comfortable to hold and they are weighted absolutely amazingly.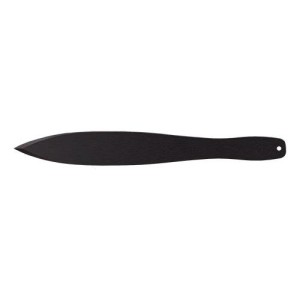 if you compete we highly recommend this throwing knife or check out the Uzis. Check It Out →
UZI Campco UZK-TRW-4 Throwing Knife set
These are great for beginners!! Beautifully crafted, throwing knife set is have a great sized blade for all types of spins! try these guys out if you are looking to get into competition.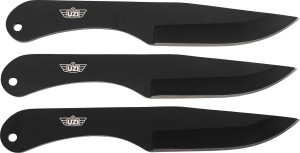 These one-piece stainless steel blades are perfect for any thrower. If you are looking for a smaller stainless steel blade also check out szco silver shadows. Check It Out →
Magnum Bailey Ziel Knife
If you know anything about knife throwing you will know the name John Bailey. Champion to countless events. John teamed up with the legend and designed this sleek, beautifully weighted throwing knife.

We tested the knife and take our word. This thing is perfect. The soft-touch thrower will absolutely love this knife. Check It Out →